From an original article by Steven Scheck, Small Business Trends
Just when we'd gotten the hang of all the wires and plugs and switches, it changed again. If wireless technology has left your business at loose ends, now is the time to zero in. Understanding these four technologies can help you plan better, reach more customers, and reduce your daily to-dos.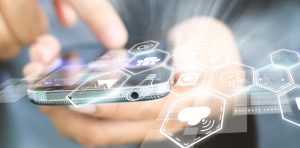 Here are 4 tech tips to help your business grow:
Utilize the Power of the Cloud
" … the cloud not only eases the workload but also increases productivity and coordination, facilitates mobility and reduces expenditure … [and can] reduce the chances of loss of important data significantly."
Harness the Potential of Social Media
"The number of active social media users has been found to be a whopping 2.307 billion. … On social media you can promote your services and products, enable buying options directly from social media platforms [and] gather customer feedback."
Leverage the Scope of WiFi
"Providing free WiFi to your customers opens up the opportunity to build quality networks and accumulate valuable data regarding your clients' online behavior."
Track of Your Progress
"Numerous technology tools can help boost the performance by identifying what doesn't work and providing the right reinforcement to keep things up and running."
Want more? Read the full article and learn how to take advantage of the four technologies that help grow small businesses.