How to Spot an Online Dating Scam
People looking for love have all the typical concerns: will he/she like me? Do we have the same interests, etc.? As if finding a partner isn't hard enough, now, those who use online dating services also have to worry about being scammed out of money. 
There are hundreds of thousands of profiles on dating sites. How can you tell who is the real person also looking for love, and the fake profile looking to deplete your bank account?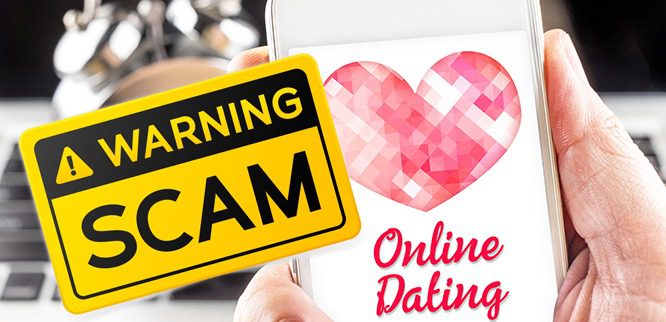 How to Quickly Spot an Online Dating Scam
They Ask You For Money
This one is simple. If someone on an online dating service asks you for money, it's a scam.
They Ask You to Leave the Site
Online dating websites can spot and dismiss members who are scammers or those who demonstrate other problematic behaviors. So, it is in the con artist's best interest to get you to text or email with them, or even speak to them on the phone rather than communicate via the website. The most common excuse that a scammer will use is that their membership is almost up. It's best to stay on the original site to communicate with other members. It's an added layer of protection for you, and if the person you are speaking to does turn out to be a troll, you can report them to the dating site for abuse.
They Won't Meet You In Person
It's a big red flag if the person you're speaking to online says that they live in the same city as you, but they are working orstationed overseas, have an emergency far away, are always traveling, etc. Of course, it is possible that someone you are speaking to online travels a lot, but if they always have an excuse for why they can't meet you in person, beware.
They Show Off How Wealthy They Are
Why would they need money from you when they are so wealthy? Their photographs show off fancy cars, mansions, etc. Why would a scammer do this? This illusion of wealth means that initially, you're not worried that they are going to ask you for money. After earning your trust, they will ask you to 'loan' them money and give you a contrived excuse as to why they don't currently have access to their own funds. To repeat the first warning in this list: if someone asks you for money in connection with an online dating site, it is a scam.
They Don't Have a Grasp of Common Grammar
Be suspicious if someone online claims to be college educated and live in your town, but they can't write coherently. Weird word choices, lousy grammar, and sentences that don't make any sense are all indicators that the person you're speaking to is not who they seem to be.
Their Life is One Calamity After Another
Your online friend contacts you in a panic. He's lost his wallet, his son is in the hospital in another country, and he is desperate for help. He needs money for a hotel, airfare, etc. This is just one of the many stories that scammers tell. They may even resort to sending you heartbreaking photos of young children ill in a hospital. This scam is widespread, and you should never send money.
How to Avoid Being Scammed
It's easy to read the above with a clear head and think, "I would never be taken in by an online dating scam." But when emotions are involved, and when a scammer has worked very hard to gain your trust, it's not easy. So how can you protect yourself?
Don't send money. Don't wire money, send a gift card, or use an app to send money. You will never see the money again.
Talk to a trusted friend. Your friend is not emotionally involved in the online relationship. They will be able to spot that something isn't right more quickly than you will.
Already sent money? Contact your bank and tell them you believe you have given money to a con artist.
Report the scammer! You can help others from being taken in by reporting your experience to the dating site you were on as well as the Federal Trade Commission (link https://www.ftccomplaintassistant.gov) and the FBI (link: https://www.ic3.gov/default.aspx)