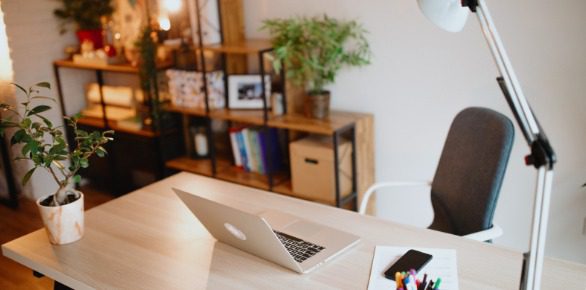 During this time of uncertainty, your home is your sanctuary – and it may also be where you run your business. Whether you're at home or your office, what steps can you take to create a more peaceful, stress-free environment?
Create a space to relax. We're not talking about an employee lounge, but a calm area where you or your employees can go to decompress. Play soft music, add a comfy chair or sofa and keep the lights dim. If you're working from home, your dedicated "relaxation" room can be your bedroom or a spare room where you can go to get away from your chaotic day.
Keep your office space organized. How do you feel when you look at your desk? Are there piles of paper, or do you have everything filed? There is nothing more stress-inducing than clutter. Go through your stacks of documents – file what you need and throw out the rest. Use only the supplies you need each day (pens, pencils, paper and more) and then store the rest in a drawer or cabinet that's easy to access.
Add a personal touch. You spend a large amount of your day working, so consider adding personal touches to soften up to your workplace. Maybe it's as simple as placing a family photo on your desk or mounting inspiring artwork on the wall. These little touches will make you feel more comfortable and help you to stay focused.
Enhance your space with greenery. Think about how you feel when you take a walk in the park. You probably return to wherever you started in a better mood. So why not bring the outside into your office? Add plants or flowers to your office space and see how they can help add energy and bring peace to your workday.
Add some color. Something as easy as changing the wall color in your workspace can give you more energy and a happier outlook each day. Choose neutral tones for a calming effect and earth tones to promote warmth or help you feel more grounded. And you don't need to paint your entire office – just start with an accent wall and see how you feel.
Lighten up your space. If you can avoid using fluorescent lighting, do it. If possible, open up the windows and let in the sunshine. Change out your light bulbs to provide more ambient lighting. These subtle changes will do wonders for your mood.
Keep a schedule. Whether you're working from home or at your office, you need to stick to a daily plan the best you can. That way, you can organize your tasks based on your priorities for the day (and the week). You'll also understand your limitations to help you determine what you can and cannot do each day.
Everyone needs a little more tranquility in life these days. By following these tips, you can take back your professional life and work environment. You'll find more peace, experience less stress and be motivated to complete the things you need to do each day.