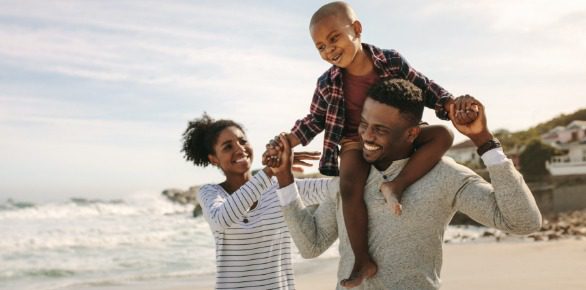 When was the last time you disconnected from your office – no phone calls, no emails, nothing? Consider this example: You're on vacation, sitting on a beach chair, enjoying the sun. You have your phone with you to enjoy some music, and you decide to check your email. You see an email from your office, and you open it. Someone emailed you with a question, so you respond. Then you respond to another email and start thinking, "I can just do a few things while I'm sitting here." Before you know it, you're working on your "vacation."
As a small business owner, it's tempting to always be working. You may think, "time is money," and most times, that's true. But your mind and body must disconnect and unwind. Studies have shown that if you don't take time off, you put yourself at risk for stress-related injuries and other health problems. In our current environment, you may find it a little more challenging to get away to the places you'd typically unplug and rewind, but there are still things you can do – and places you can go – to get away from it all.
Be Clear About Your Vacation Plans.
Once you've made plans to take a few days (or a few weeks) off from work, discuss the key tasks your staff will need to manage while you're gone. Explain coverage assignments and create a back-up plan "just in case." Talk to your key contacts or critical clients before you leave, so they're aware of your plans. Additionally, be very clear about what you want to know while you're away and make sure everyone understands what you consider to be an "emergency."
After you've communicated your plans, put an "away from the office" notification on your email and any other locations you deem necessary. Just remember to respond to emergencies only while you're on vacation; otherwise, your efforts before leaving will be for naught.
Stay Home or Go Away – It's Up to You.
In today's environment, you may not be able to visit your favorite vacation spot or relax on a cruise somewhere, but there are still many things you can (and should) do. Get outside and enjoy your pool or take a hike with your family. Binge-watch your favorite TV series or watch some of the movies you've wanted to see but haven't. Get a massage, pedicure or manicure as a way to relax and get your mind off everything. Exercise at home or your gym. Maybe try a new format or stick to something you enjoy. Play board games or cards with your family. Whatever you decide, just be sure you're relaxing and enjoying yourself each day.
Plan Activities to Help You Relax and Enjoy Your Time Off.
It's your time to do what you enjoy. Set up a schedule and stick to it every day, so you're not tempted to slip back into your regular habit of checking email or calling your employees. If you're spending time with your family or friends, ask them to hold you accountable for relaxing. A simple nudge from a child, spouse or good friend will help you stay focused on what matters most.
Prepare For Your Return to Work.
If you've taken a vacation before and regretted it when you returned to the office, you didn't prepare correctly. Take time the day before you return to work to prepare. First, scan your inbox and prioritize: delete it, delegate it or deal with it. Make a priority list to deal with the most pressing items first and work from there. Second, check in with your key staff to find out what happened while you were away. Ask them to update you via email before you return so you don't have to spend time on the phone (on your last day of vacation) talking about work. Lastly, create your plan of the day for your first day back to work. By planning your priorities, you won't become overwhelmed by your list of things to do, and you'll be able to ease back into the swing of things.
While taking a vacation might seem impossible, it's doable and something your mind and body need. Remember, the time you spend away from your business will help you rejuvenate, which may fuel new ideas and help you stay more focused in the future.