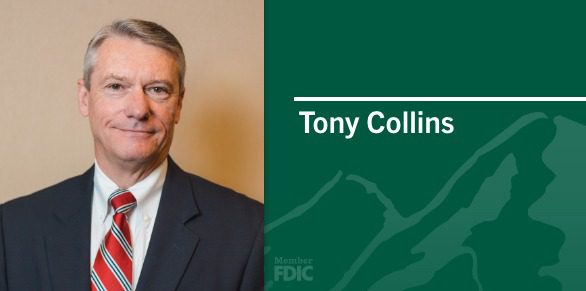 Tony Collins recently joined the Pinnacle Bank team as Senior Vice President, Market Executive, bringing with him over 45 years of banking experience. He has truly "done it all at the bank!"
Tony grew up in Lula, Georgia, and graduated from the University of Georgia in 1975 with a degree in Political Science. After college, he began his banking career in Gainesville, and in 1983, he graduated from the University of Virginia's Retail School for Bank Management. Tony's banking experience includes bank operations, finance and accounting, bank administration, commercial and consumer lending, and executive management. With a particular interest in bank financial management, during his career, he has provided organization advisory assistance to numerous North Georgia banks. He enjoys working closely with the people of North Georgia and has developed many long-standing relationships with businesses and bankers throughout the region.
In his current position at Pinnacle Bank, Tony will provide a unique insight into the North Georgia market because of his vast knowledge of banking in the region. Using this rich history, Tony will undoubtedly help Pinnacle expand existing relationships and develop new ones to help better meet the needs of its customers.
When Tony's not working at the bank, he enjoys playing golf and spending time with his four grandchildren. We're excited to have Tony on the Pinnacle team and look forward to great things happening in the future.