Elbert Memorial Hospital Foundation recently sponsored its 4th Annual Jack Frost Jump at the Richard B. Russell State Park Beach Area, and several Pinnacle Bank employees in Elbert County participated.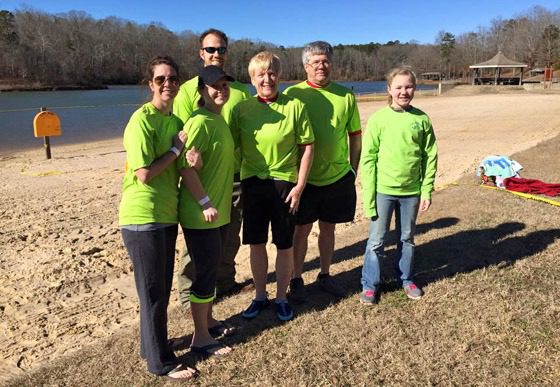 Proceeds from this year's event go to the Elbert Memorial Hospital Charity Care Program assisting the uninsured, the poor, the needy, and the sick with their health care needs in the community, regardless of their ability to pay.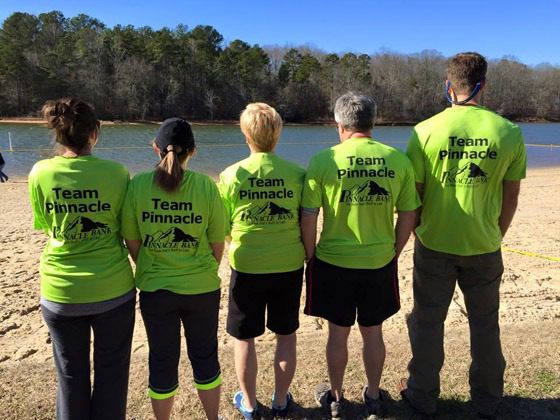 Foundation Chair Sandra Brown said, "It was amazing to see all the people who came out for the Jack Frost Jump.  It was estimated that about 100 people enthusiastically ran into the chilly waters of Lake Russell, and there were 200 people watching from the beach area!  The air temperature was in the 40s, with a wind chill in the 30s, and the Lake Russell water temperature was 45 degrees.
That water was mighty cold, but the Pinnacle Bank team was proud to brave the chilly temperatures for charity.
Pinnacle Bank is proud to support local charities in our community, and were thrilled to support the Jack Frost Jump! The event raised over $12,000 for the Elbert Memorial Hospital Charity Care Program .
The Jack Frost Jump also honors the life and memory of Donna Seymour, who enthusiastically spearheaded the first two successful Jack Frost Jump Fundraisers.